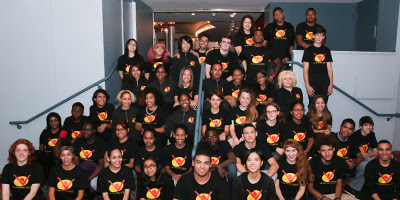 Dear New Victory Community,
We have some fantastic news to share: the New Victory Usher Corps has been chosen to receive the National Arts and Humanities Youth Program Award, which was
presented by First Lady Michelle Obama at the White House
.
The National Arts and Humanities Youth Program Award recognizes the country's best creative youth development programs for using engagement in the arts and the humanities to increase academic achievement, graduation rates, and college enrollment. The
New Victory Usher Corps
is one of only 12 organizations in the country to receive the award this year from the President's Committee on the Arts and the Humanities, the highest national honor awarded to such programs.
As a patron of The New Victory, you've likely met some of the spirited young people who are given the responsibility of being the face of our organization at performances and family engagement activities. What you may not know is that these young New Yorkers participate in a rigorous three-year creative youth development program that provides them with paid employment, mentorship, job training and academic support each year. Launched the day the theater opened in 1995, the New Victory Usher Corps offers a truly unique opportunity for teens to invest in their future while experiencing diverse cultures and art forms.
This marvelous award honors every single young person who has "graduated" from the New Victory Usher Corps program, as well as the 50 Ushers staffing the theater this season. Their energy, enthusiasm and determination make them role models for all of us. We thank you—friends and fans of the theater—for your support of these exemplary young people and of The New Victory, where the transformative power of the arts is celebrated every day!
Warmest regards,
Cora Cahan
President, The New 42nd Street